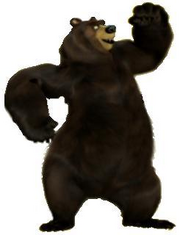 Vincent is the main antagonist of Over the Hedge. He is RJ's arch-nemesis and former best friend.
He also makes a cameo in Bee Movie.
Personality
Vincent is a greedy, evil, mean, nasty and cruel bear who likes to steal food from campers.
At first, RJ was his best friend. However, when he decides to help the other animals, Vincent tries to kill RJ and his friends.
Appearance
Vincent has dark brown fur with a tan muzzle, a muscular body and sharp claws.
Gallery