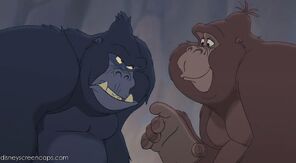 Uto and Kago are the secondary antagonists of Tarzan II. They are Mama Gunda's sons and former henchmen.
Trivia
Uto and Kago were thought to be minor antagonists of the film.
Uto and Kago can be argued to be reformed but they didn't reform.
Despite being villains, Uto and Kago are not completely evil as they were both concerned when Kala and the infant gorillas almost got knocked off the waterfall.