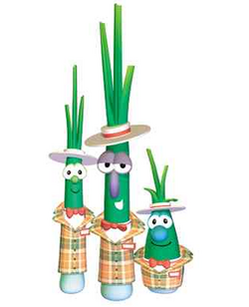 The Scallions are a trio gang who are recurring characters in VeggieTales.
Bio
The Scallions are a bunch of green onions who 1st appeared in "Daniel and the Lions' Den" on "Where's God When I'm S-Scared?". They're known for the wisemen, milk money bandits, salesmen, and the quartet singers with Phil Winklestien.
Psychical Appearances
The tall one has purple eyelids and a long nose and used to have blackener on his eyelids and wore a gold crusted belt with a red jewel. The 2nd tall one has yellowish green nose and eyelids and the 3rd one has a big blue nose and blue eyelids.