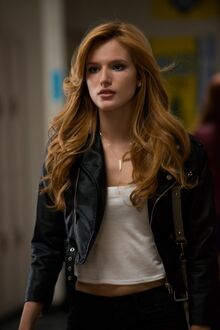 Madison Morgan is the main antagonist of The Duff.
She is portrayed by Bella Thorne.
The Duff
She is the ruthless label-making Queen Bee of Malloy High School. She use to date the handsome football captain, Wesley Rush. She perks as voracious of Bella's relationship to Wesley.
Madison is shown to be a very popular, self-centered mean girl who loves to be, and often is, in the spotlight. Madison relentlessly torments and humiliates Bianca Piper. She was settled as homecoming queen but was tampered by Wesley.