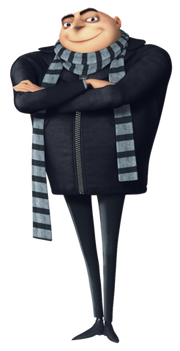 Gru is the main protagonist of the Despicable Me franchise and a minor character in its 2015 prequel, Minions. He is The Minions' leader and boss, Margo, Edith and Agnes' adoptive father, Lucy Wilde's husband and Dru Gru's brother.
Despite being the protagonist of the film, he was a villain at the beginning of the film, but he later reforms.
Trivia
Although he reformed, he went back to being a villain in the third film, but he reforms again.