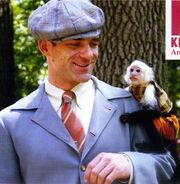 Frederich Burke is the hidden major antagonist in Kit Kittredge: An American Girl. He is portrayed by Dylan Smith.
Frederich Berk is the cousin of magician Mr. Jefferson Jasper Rene Berk and has a pet monkey named Curtis. When he shows Miss Dooley, the tattoo of a bird on his right arm, Kit realizes that Frederich was the hobo that stole the red wallet, robbed the Smithens, stole Will's boots and that he had been involved in every city where the hobo crimes happened.
In the end, he, along with Mr. Berk and Miss Bond are arrested for stealing the money.