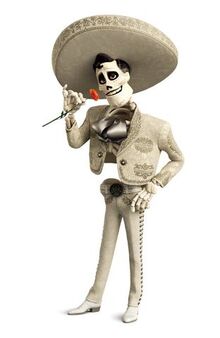 | | | |
| --- | --- | --- |
| " | I have to sing! I have to play! The music, it's not just in me, it IS me! | " |
| | ~ Ernesto explains what he is in one of his films. | |
| | | |
| --- | --- | --- |
| " | Success doesn't come for free, Miguel. You have to be willing to do whatever it takes to.... seize your moment! | " |
| | ~ Ernesto's most famous quote, revealing his true colors to Miguel Rivera. | |
Ernesto de la Cruz is the main antagonist of Pixar's 19th full-length animated feature film Template:W. He is also both the former childhood best friend and former idol and now arch-nemesis of Miguel and Héctor Rivera.
He was a famous singer, musician, and actor (but fake songwriter) who had dazzled the audience with his good looks and his charm, and was a source of Mexican pride due to his handsome looks, supposedly strong morals, and his standing up for his fellow Mexicans. He died when he was crushed by a giant bell mid-performance and resides as a soul in the Land of the Dead.
However, it was revealed that Ernesto murdered Héctor, who actually wrote all his songs, for betrayal and stole all of his songs and compositions to gain fame and fortune, thus making him indirectly responsible for the Riveras hating music and Héctor in the first place (except for Miguel and Coco).
In the English version, he was voiced by Template:W, who also played El Macho in Despicable Me 2, Antonio Pope in Ride Along 2, and El Topo in Snitch. In the Spanish dubbed version, he was voiced by Template:W (also known as "El Buki") in his first villainous role.
Personality
"
Ernesto: Security? Take care of Miguel. He'll be extending his stay.
Miguel: What?! But I'm your family!
Ernesto: And Héctor was my best friend. Success doesn't come for free, Miguel. You have to be willing to do whatever it takes to... seize your moment. I know you will understand.
"
~ Ernesto revealing his true nature to Miguel after admitting his murder of Héctor.noicon
At first glance, Ernesto presents himself as a charming, wise, sensible and intelligent individual who encouraged others to follow their dreams no matter what, making him seem like a good role model to others (especially to Miguel). He also comes across as a very fun, friendly, and approachable person, the sort who's the life of the party wherever he goes while also being very personable to his guests, his staff and great with children.
However, it all turns out to be a façade to hide his true nature, that of a selfish, sinister, vain and overambitious man who wanted glory and fame all for himself, even if it meant murdering his best friend Héctor in order to steal his song book. His afterlife as a spirit has also allowed him to strengthen his reputation, and he will go to malicious lengths to maintain it. Therefore, his view of how someone should follow their dreams no matter what ultimately makes him more selfish than anything else.
He has a very paranoid personality, as shown when he considered Miguel a liability when the boy witnessed the revelation of his true colors and went to the extent of attempting to murder him to hide his secret. He showed no remorse nor hesitation as he even taunted his former friend Héctor with a sarcastic apology before nearly wiping him from existence.
He was also cocky enough to hide his secret in one of his films, which inevitably caused him to be exposed. When faced with his actions, he can also be cowardly as shown when he was attacked by Héctor for killing him and being confronted by the other Riveras who learned the truth about Héctor's death. Instead of fighting back or even trying to convince them that they were wrong, he instead sent his guards after them.
Despite his selfishness, he is capable of showing common decency to people as long as they don't know his secret and he saved Miguel after he fell into his pool while at the party. He then spent some time bonding with Miguel and even intended to give him his blessing to return to the Land of the Living. That is, this was before Miguel figured out what he did to Hector, so it's debatable whether Ernesto's act of decency was sincere or not.
Overall, Ernesto is a man who puts his own desires first and puts his friends below him last. His greatest weakness is his willingness to disregard friendship and family in order to gain fame and protect his crimes, which proved to be his downfall and loss of reputation.
Quotes
| | | |
| --- | --- | --- |
| " | You want to give up now, when we're this close to reaching our dream? (Héctor: This was your dream. You'll manage.) I can't do this without your songs, Héctor! (Héctor: I'm going home, Ernesto! Hate me if you want to, but my mind is made up.) | " |
| | ~ Ernesto arguing with Héctor over the latter's decision to leave the music industry. | |
| | | |
| --- | --- | --- |
| " | Oh, I could never hate you. If you must go… then I'm sending you off with a toast. To our friendship... I would move heaven and earth for you, mi amigo. Salud! | " |
| | ~ Ernesto pretending to support Héctor of his decision to leave while secretly giving him a poisoned drink. | |
| | | |
| --- | --- | --- |
| " | Perhaps it was that chorizo, my friend. | " |
| | ~ Ernesto trying to comfort Héctor as the latter is succumbing to the poison on the street, right before Héctor dies. | |
| | | |
| --- | --- | --- |
| " | Are you all right, niño? (gasps) It's you! You are that boy, the one who came from the Land of the Living! (Miguel: You... you know about me?) You are anyone that has been talking about! Why have you come here? (Miguel: I'm Miguel... your great-great grandson.) I have a great-great grandson?! | " |
| | ~ Ernesto meeting Miguel after saving him from drowning in the mansion pool. | |
| | | |
| --- | --- | --- |
| " | My boy... with a talent like yours... how could I not listen? | " |
| | ~ Ernesto commending Miguel's musical skills. | |
| | | |
| --- | --- | --- |
| " | All of this came from my amazing fans in the Land of the Living. They leave me more offerings than I know what to do with. Hey, what's wrong? Is it too much? You look overwhelmed. (Miguel: N-No. It's all great.) But... (Miguel: It's just... I've been looking up to you my whole life. You're the guy who actually did it. But did you ever regret it? Choosing music over everything else?) It was hard saying goodbye to my hometown. Heading off on my own. (Miguel: Even your family?) Si. But I could not have done it differently. One cannot deny who one is meant to be. And you, my great-great-grandson, are meant to be a musician. You and I, we are artists, Miguel. We cannot belong to one family. The world is our family! (Sees the fireworks and becomes excited) Ooh-ooh! Ooh! The fireworks have begun! | " |
| | ~ Ernesto's conversation with Miguel after the party. | |
| | | |
| --- | --- | --- |
| " | It has been an honor. I am very sorry to see you go, Miguel. I hope you die very soon. (Miguel is a little disturbed) You know what I mean. | " |
| | ~ Ernesto about to send Miguel back with a marigold Aztec petal until Héctor arrives. | |
| | | |
| --- | --- | --- |
| " | My friend... you're... being forgotten. (Héctor: And whose fault is that?!) Héctor, please! (Héctor: Those were MY songs you took! My songs that made you famous!) (Miguel: What?) (Héctor: If I'm being forgotten, it's because YOU never told anyone that I wrote them!) (Miguel: That's crazy! De la Cruz wrote all his own songs.) (Héctor: You wanna tell him or should I?) Héctor, I never meant to take credit. We made a great team, but you died. And I... I only sang your songs because… I wanted to keep a part of you alive. (Héctor: Oh, how generous!) | " |
| | ~ Ernesto trying to justify his actions of stealing Héctor's songs after being confronted by an angry Héctor. | |
| | | |
| --- | --- | --- |
| " | (Héctor: Look, I don't want to fight about it, I just want you to make it right: Miguel can put my photo up, and I can cross over the bridge. I could see my girl. Ernesto... remember the night I left?) That... was a long time ago. (Héctor: We drank together. And you told me you would move heaven and earth for your amigo. Well, I'm asking you to now.) | " |
| | ~ Ernesto after being reminded of the day Héctor tried to leave for his family. | |
| | | |
| --- | --- | --- |
| " | (Héctor: You… poisoned me.) You're confusing movies with reality, Héctor. | " |
| | ~ Ernesto trying to dissuade Héctor from learning the truth about the latter's death to no avail. | |
| | | |
| --- | --- | --- |
| " | Security, security! (Héctor: YOU TOOK EVERYTHING AWAY FROM ME, YOU RAT!!) Have him taken care of. He's... not well. (Héctor: I just wanted to go back home! NO!!) | " |
| | ~ Ernesto ordering his security guards to imprison Héctor in the cenote pit after the latter realized the true reasons behind his death. | |
| | | |
| --- | --- | --- |
| " | I apologize. Where were we? (Miguel: You were going to give me your blessing.) Yes. Uh, sí. Miguel, my reputation, it is very important to me. I would hate to have you think that- (Miguel: That you murdered Héctor for his songs?) You don't think that, do you? (Miguel: I—- No. Everyone knows you're the good guy.) | " |
| | ~ Ernesto asking Miguel if he believes Héctor's story, to which the latter denies. | |
| | | |
| --- | --- | --- |
| " | Yes? Don't I know you? (Imelda slaps him with her boot) (Imelda: That's for murdering the love of my life!) Who?! Who the- (Héctor: She's talking about ME!! I'm the love of your life?) (Imelda: I don't know, I'm still angry at you.) Héctor?! How did you- (gets slapped again) (Imelda: And that's for trying to murder my grandson!) Grandson?! (Miguel: She's talking about me!) YOU!! Wait… you're related to Héctor?! | " |
| | ~ Ernesto learning that Miguel is the real great-great grandson of Héctor before being confronted by the Rivera relatives for murdering Héctor and stealing his photo. | |
| | | |
| --- | --- | --- |
| " | SECURITY, AYUDAME! | " |
| | ~ Ernesto calling his security guards to stop the Rivera family from reclaiming Héctor's photograph. | |
| | | |
| --- | --- | --- |
| " | Get her off the stage! | " |
| | ~ Ernesto ordering his security guards to stop Imelda and steal back Héctor's photo during the sunrise show. | |
| | | |
| --- | --- | --- |
| " | YOU'RE NOT GOING ANYWHERE! (shoves Imelda away while dragging Miguel) (Héctor: Imelda!) Stay back, stay back! All of you, STAY BACK!! NOT one more step! | " |
| | ~ Ernesto stopping the Rivera family from sending Miguel back to the Land of the Living with Héctor's photo. | |
| | | |
| --- | --- | --- |
| " | I worked too hard, Héctor… too hard to let him destroy everything! (Héctor: He's a living child, Ernesto!) He's a THREAT!! You think I'd let him go back to the Land of the Living with your photo?! To keep your memory alive?! No! (Miguel: You're a coward!) I am Ernesto de la Cruz, the greatest musician of all time! (Miguel: Héctor's the real musician! You're just the guy who murdered him and stole his songs!) I am the one who's willing to do what it takes to seize my moment… whatever it takes. | " |
| | ~ Ernesto ranting out against Héctor and Miguel before dropping the latter into the lake, the very same speech that revealed his true nature to the audience. This is a Villainous Breakdown | |
| | | |
| --- | --- | --- |
| " | Apologies, old friend, but the show must go on. | " |
| | ~ Ernesto taunting Héctor after dropping Miguel and Hector's photo into the lake. | |
| | | |
| --- | --- | --- |
| " | (laughs nervously) Please… mi familia (my family)! (Male Attendee: MURDERER!!) (Female Attendee: GET OFF THE STAGE!!) Orchestra, a-1, a-2, a-1… (the conductor breaks his baton in disgust) Remember me… though I have to- (a tomato is thrown into his jacket) HEY!! | " |
| | ~ Ernesto being jeered by the audience for his heinous actions against the Rivera family. | |
| | | |
| --- | --- | --- |
| " | Nice kitty. (Pepita roars and grabs him by the waist) Put me down! NO, PLEASE!! I'm begging you! Stop, stop! Ow, ow! NOOOOO!!! (seeing the giant bell as he is about to crash into) NOOOOO!!!! | " |
| | ~ Ernesto's last words before he got crushed by the giant bell, echoing his original death. | |
Trivia
Ernesto is the fifth Pixar villain to die. Unlike them however, he initially died before the beginning of the movie instead of the end, so at least in the human world, he's a posthumous character.
Ernesto is designed after famous Mexican actors and singers from the Golden Age of Mexican Cinema, in particular, Pedro Infante.

At his party, Ernesto is seen interacting with Infante and Jorge Negrete (two of his inspirations).

The message of the sign (FORGET YOU) hung on Ernesto's bust at the film's ending was altered in two versions. Some have a translated version of the message while other international versions (especially in the English version with Spanish subtitles released in Mexico and some American cinemas) have replaced the message with a big "X" instead.
Ernesto is the Spanish variation of the name Ernest, which sounds and is spelled very similarly to the word earnest, meaning truthful, genuine or heartfelt. And his last name is Spanish for "of the cross", meaning his name is literally "Heartfelt of the Cross". This is a major cause of dramatic irony considering his true nature is a liar, fraud, and murderer.
Except "Remember Me" (which was sung by his original voice actor), Ernesto's singing voice is provided by a different actor, Antonio Sol.
Several easy-to-miss signs foreshadow Ernesto's true colors and hint that he is not Coco's father:

In the Rivera family portrait, although Imelda's husband wore an outfit similar to Ernesto's, the belt buckle had two guitars on it. Ernesto's belt buckle does not have this emblem, but rather the symbol of a bull's head. The faceless man in the photo also has a noticeably thinner body type.
Early on when Miguel watches an old video of Ernesto, the camera zooms in on the latter's hands when he's playing notes, implying that it's a stunt double. There are only wide shots of Ernesto when he's merely strumming, hinting he's not as talented as he appears to be.
Ernesto is clearly shocked when Miguel first calls him his great-great-grandfather but still believed him. This implies that while Ernesto never married, he had at least one extramarital love affair and, given the time period and culture in which he lived, was worried about his reputation getting ruined by the accidental conception of a child outside wedlock.
Héctor states that Ernesto wasn't very talented. This is proven true when the latter states in the flashback that he can't succeed without Héctor's songs.

The novelization gives a hint in one of the flashback chapters. Ernesto convinces Héctor to go on a series of tours throughout Mexico. During their performances, Héctor notices that Ernesto's singing and playing style shifts between happy and half-hearted depending on the audience size, and realizes that his partner cares more about attention than about the art behind music.

Ernesto speaks casually when saying that he needs to get Miguel home, rather than with concern. As he prepares to give the blessing, Ernesto also states he hopes for Miguel to "die very soon". The first action foreshadows Ernesto's lack of authentic compassion while the second action foreshadows the lengths to which he is willing to go to avoid being exposed or upstaged.
The involved movie staff have stated that a person can give their blessing to anyone who is loved like a family member (not just a blood relative), but said feeling must be mutual. Ernesto's petal does not glow when he offers Miguel his blessing, and this hints that while Miguel views Ernesto as family, Ernesto views Miguel as merely a disposable vehicle to fame.
Frida Kahlo says that Ernesto never shows up to rehearsals, preferring instead to host parties in his mansion, which again demonstrates how he prioritizes attention over music and fans. The same goes for Héctor, who complains about that fact.

When both speak of this, they speak it in a rather negative tone, reinforcing the fact that Ernesto wasn't talented in the first place and further highlighting how he only cares about fame.

When Miguel asks Ernesto how he felt about leaving his family, the latter gives a vague response that it was "hard" but he had to follow his dreams. Ernesto does not mention a wife or a daughter, let alone Imelda or Coco.
Miguel's family does not object to Miguel mentioning Ernesto, even though they object to him referencing Coco's father, although they did mention that they never knew about Coco's father's identity. Furthermore, when Miguel declares Ernesto to be his great-great-grandfather, the family claims that it is "impossible".

Whenever Miguel's family talks about Coco's father, it is mentioned that he was forgotten and left off the ofrenda. Ernesto, on the other hand, is remembered by many people, both living and dead. This is the most obvious hint that Ernesto is not Miguel's great-great-grandfather.

Despite getting crushed a second time, Ernesto still exists in the Land Of The Dead, as Lee Unkrich confirmed. Unkrich has stated that Ernesto is still remembered for his movies and his story as the one who stole Héctor's guitar and his songs and murdered him, albeit permanently disgraced.

Thus, he is unique among Disney/Pixar villains in that he died before the events of the film rather than at the end or not at all, and is thus dead (though very much active) during his antagonistic role.
This also fits in with the general Disney tradition of giving villains a fitting fate; all that mattered to Ernesto was fame and the adoration that came with it. He is now stuck in a permanent existence, unable to cross over to the Land of the Living and denied the 'Final Death' as people insist on remembering his vile actions (as murders of famous people are remembered).
This was originally explored in the deleted scene "To the Bridge" where Ernesto was in hot pursuit of Miguel at the decaying Marigold Bridge where they would have a showdown during sunrise once Dia de los Muertos ended after the countdown. Ernesto ended up getting evaporated with the marigold petals as he grabbed Miguel. This was scrapped as it proved to be too much of a rehash to the climaxes of the Disney Renaissance films.

Taking into account the years in which they were born, Ernesto is four years older than Héctor. He was about 46 years old when he died, outliving Héctor by 21 years―the same span of time Héctor was alive.
Ernesto has similarities with another Pixar main antagonist

Charles F. Muntz

from Up, as both are celebrities who are initially idolized by the protagonists. When the protagonists learn of their true nature, they stop idolizing them and become their enemies. Furthermore, they try to kill their former fans to stop them from ruining their plans. That said, Muntz is comparably more altruistic since he was initially willing to let Carl and Russell go when he got what he wanted and only tried to murder them after they boarded his blimp to get "Kevin" back, while Ernesto uses murder more as a go-to solution.
Ernesto's downfall is shared with fellow Pixar villain

Henry J. Waternoose

from Monsters, Inc., as both had their true motives caught on camera and lost their respect from the public. However, Waternoose had more firm and understandable reasons for his actions, ultimately going mad to save his company and stop the energy crisis, while Ernesto murdered Héctor for selfish reasons, such as fame.
He seemed to have familiarity with Imelda, possibly having come in contact with her before he and Héctor left Santa Cecilia, which made sense as she was the wife of his former best friend.
When Héctor was about to leave Ernesto, Ernesto immediately offered a drink that had a poison that kills Héctor. However, there was no preparation for Ernesto poisoning the alcohol shown. This indicates that the alcohol had already been poisoned prior. It can be explained that Ernesto may have gotten the poison while on the tour. And since he and Héctor had been touring for some time, there are indications that they argued over it constantly, with Ernesto managing to talk him out of it while making contingency plans (including having the poison on hand) to kill him if he insisted on leaving. So when Héctor finally decided to go home and ignored Ernesto's pleas, that was when Ernesto snapped and poisoned him.
In the deleted scene "Family Fix", Ernesto snatches Héctor's guitar from Miguel (then known as "Marco" during development) and breaks it (which ended up destroying his only hope of getting home) right in front of the audience and the Riveras at the main stage. At this point, he is reviled by the dead and is given a final slipper to the head by Imelda. It was scrapped because it went against how Ernesto's downfall was to be finalized.
In the deleted scene "Dia de los muertos", it features a group of people singing a calm ballad, before turning it over-the-top and practically bastardizes the meaning of the holiday. This could mean to foreshadow how Ernesto bastardizes Héctor's song, "Remember Me", from a personal family song into a flashy fame song.
Ernesto serves as a dark parallel to Miguel: Both of them are determined to become musicians. However, while Miguel's desire to become a musician comes from his musical passion, Ernesto only cared for fame and glory. If Miguel hadn't learned how family is important to him, he would've ended up like Ernesto, who didn't care about family and friendship.
Ernesto's downfall was possible primarily because of his movies; if Ernesto had not included the poisoning scene that parallels his poisoning of Héctor, his true nature may have never come to light.
External Link
Template:Pixar Villains Template:Disney Villains pl:Ernesto de la Cruz fr:Ernesto de la Cruz