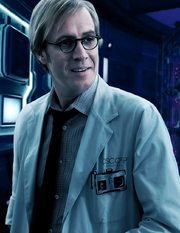 Dr. Curtis Connors
, aka the
Lizard
is the main antagonist of the comic book film
The Amazing Spider-Man
. He is the science teacher of Peter Parker and Gwen Stacy. He works at Oscorp.
History
During the credits, he has been sent to jail after being defeated by Spider-Man.
Trivia
The darkened figure Connors met in his jail cell was credited as "The Man in the Shadows", who has yet to reveal his identity.