We're Getting Mutants in the MCU - The Loop
Play Sound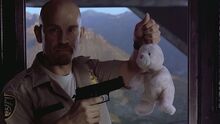 Cyrus Grissom is the main antagonist of Con Air. He is a mastermind, psychopath, killer and criminal who hijacked the titular prison plane "Con Air" in order to flee from the FBI services together with the criminals on board of this plane to live a wealthy life.
He is portrayed by John Malkovich who also played Mitch Leary.
Con Air
Sometime before the movie began, Cyrus Grissom murdered, kidnapped, robbed, extorted and other criminal acts. He had spent 25 years in jail as it started at the age of 14. He earned two degrees while in jail, murdered 11 inmates, instigated 3 riots and escaped lawful custody twice. He is first seen being boarded onto the Jailbird plane along with several other inmates. When an inmate named Pinball starts a fire and opens the locks, Cyrus takes over and calls the flight, Con Air. His boss is Francisco Cindino, a South American drug lord.
If all went as planned, Cyrus and his gang would have lived in a country with no extradition charges. Upon discovering his plane being taken by his boss who betrayed him, Cyrus executes Cindino.
When the Jailbird crashed into Las Vegas, Cyrus and 2 other inmates named Diamond Dog and Swamp Thing try to escape on a fire truck. Cameron Poe a former U.S. Army Ranger and Larkin a U.S. Marshall chase after the villain on police motorcycles. In a scuffle on the truck, Poe handcuffs Cyrus to the ladder telling him he will not get near his daughter Casey Poe, which sends him flying through an overhead walkway, onto some power lines and finally landing in the pile driver which leaves him to die under a pile driver, which falls on his head.