Jurassic World: Dominion Dominates Fandom Wikis - The Loop
Play Sound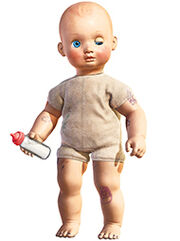 Big Baby is the (former) hidden tertiary antagonist of Toy Story 3. He is one of Lots-o'-Huggin' Bear's former henchmen.
Trivia
Big Baby is sometimes thought to be the (former) secondary antagonist of the film.
He is similar to Darth Vader.
Big Baby is also similar to Iago.
Before Daisy accidentally left her toys, Big Baby wore a yellow onesie with a matching bonnet. However, when he and Lotso got to Sunnyside, he wasn't wearing it anymore. It is unknown what happened to it; he lost the bonnet when he fell off the truck and also broke his left eye.
Big Baby has what appears to be a lazy eye, which was caused when he was knocked off the truck and landed near Sunnyside. It is also a possible reference to Babyface.
His tattoos may have been based off concept art of Ducky, which depicts one drawn on by Sid.
The way in which Big Baby throws Lotso into the dumpster mimics a scene in Star Wars Episode VI: Return of the Jedi, in which Darth Vader throws Emperor Palpatine into the reactor shaft of the Second Death Star to save Luke. This may only be a possible reference, unlike the ones from the previous Toy Story films.
It is very likely that he is adopted by Barbie and Ken afterward. This can be seen when the latter coaxes him when he is crying after his sand castle collapses.
Big Baby is based on a baby doll that Lee Unkrich's daughter Hannah had when she was growing up.
In Sweden, he is named Babyface, just like one of Sid's toys.
Big Baby does have a physical appearance in Toy Story 3: The Video Game, but only a silent cameo on the Sunnyside level for PS3.