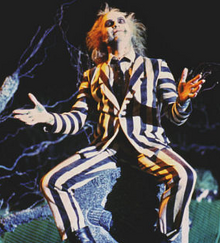 Betelgeuse is the titular antiheroic tritagonist of the 1988 film Beetlejuice.
He is portrayed by Michael Keaton.
Beetlejuice
In the film, Betelgeuse was darker and more openly malicious than he would become in the cartoons, arguably being one of the main antagonists, though he also acted as a benefactor of sorts to the heroes; though there was no attempt to hide the fact that Betelgeuse was not meant to be a nice character, even the heroes who summoned him knew that he was, pretty much, a demon. But Betelgeuse was still used as a force of (relative) good, as his chaos was directed largely at a group of human antagonists, though he was still rude, obnoxious, and hostile towards the heroes as well, not to mention the fact that he also tried to force one of the main characters to be his unwilling bride, much to her disgust.
Biography
Betelgeuse is a freelance poltergeist who specializes in the art of "Bio-excorcism", the act of scaring living occupants out of their own house. During the film, Betelgeuse lives in exile inside of a small miniature remake of the town of Winter River, buried in the model town's graveyard. Betelgeuse can only be resurfaced by manually traveling to the town and being re-dug from his grave, and if his employers hire him can then on be instantly summoned by reciting his name three times in a row. Betelgeuse's date of birth, and death are unknown but it is known by context that he died a long time ago, and has been enjoying his afterlife for what has most likely been centuries.