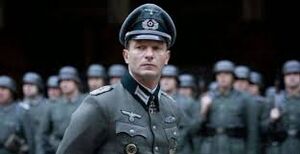 Baron Wolfgang Von Strucker is a recurring antagonist in the Marvel Cinematic Universe. He is a minor antagonist in Captain America: The Winter Soldier, one of the overarching antagonists in Season 2 of Marvel's Agents of S.H.I.E.L.D., and a minor antagonist in the 2015 film Avengers: Age of Ultron.
Avengers: Age of Ultron
He is the current leader of HYDRA, but he was later killed by Ultron
Trivia
He is portrayed by Thomas Kretschmann.